This app is not for emergency purposes - if you are in a crisis, call 911 immediately.
Longy School of Music of Bard College Partners with META Teletherapy to Provide Mental Wellness and Counseling Services to Students Longy School of Music of Bard College, a degree-granting conservatory in Cambridge, MA with an additional campus in Los Angeles, CA, is...
read more
Live Presentation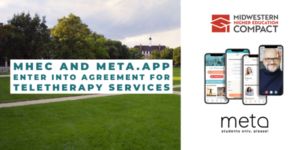 Friday, September 3, 2021 - 10:00 AM (CST)
Webinar
Live presentation by MHEC and META
MHEC and META Expand Mental Health Counseling Services
The Midwestern Higher Education Compact (MHEC) has awarded a master services agreement to META Teletherapy to provide mental health counseling services at a pre-negotiated, affordable rate to public and private not-for-profit post-secondary institutions in MHEC's member states and its sister compact states.
In this webinar, we'll take you on a detailed tour of the META platform and explain the MHEC agreement.
Welcome to META Teletherapy – Are You Ready?
February 5th, 2020