This app is not for emergency purposes - if you are in a crisis, call 911 immediately.
Central Wyoming College Launches META's Student Wellness Program META Teletherapy provides students with confidential and easy access to a nationwide network of licensed providers. Central Wyoming College, a public community college serving three WY counties, has...
read more
Next Scheduled Webinar:
Presented by META Teletherapy
Thursday, Jan. 13 12 PM CST
Want to expand your mental health services for students?
Stress, anxiety, and depression among students have never been higher. You can give your students easy access to counselors with META Teletherapy.
Students use META to connect with a counselor of their choice for private, secure teletherapy sessions.
Most providers respond in under an hour and accept insurance.
Your counseling staff can also be included on the META app.
No other student wellness platform offers the coverage, response time, and experience as META.
View our Recorded Presentations: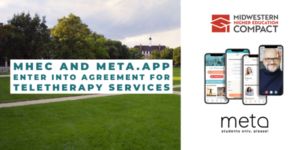 Friday, September 3, 2021 - 10:00 AM (CST)
Webinar
Live presentation by MHEC and META
MHEC and META Expand Mental Health Counseling Services
The Midwestern Higher Education Compact (MHEC) has awarded a master services agreement to META Teletherapy to provide mental health counseling services at a pre-negotiated, affordable rate to public and private not-for-profit post-secondary institutions in MHEC's member states and its sister compact states.
In this webinar, we'll take you on a detailed tour of the META platform and explain the MHEC agreement.
Welcome to META Teletherapy – Are You Ready?
February 5th, 2020